The first giveaway is for you aida cloth users out there.Assorted pieces of aida in various sizes and some Charles Craft huck towels. This is giveaway #1.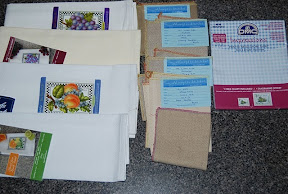 The second is for you linen lovers out there. Lots of linen in various cuts. This is giveaway #2.
The third giveaway is a limited edition box and Santa kit from Mosey n Me along with three limited edition packs of thread from The Gentle Art (full 5 yard skeins at least 15 maybe more) this is giveaway #3.
The fourth giveaway is a selection of pillow kits from Pine Mountain, most with the pillow forms. This is giveaway #4.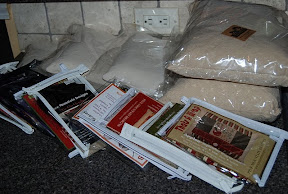 The final giveaway is a selection of charts from my stash. Some are even kitted by me with the floss and fabric and embellishments. All in new, unused condition. This is giveaway #5.
Here's how this is going to work. Everyone who posts a comment will receive an entry into the contest, but you must state the giveaways in which you are interested. You can enter multiple giveaways, just state those numbers in your comment. I will draw the winners next Tuesday April 19th. Those of you who post a link on your blog back to this post will receive a second chance for each giveaway in which you are interested. Sound confusing? I sure am confused. Good luck everyone!
- Posted using BlogPress from my iPad